Matthew S. Rockett, DPM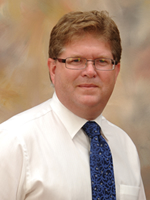 Dr. Matthew S. Rockett was born and raised in the central Pennsylvania town of Lebanon. He attended Lebanon Senior High school and graduated from Washington & Jefferson College in Washington, PA with a Bachelor of Arts degree in Biology. He then graduated from the Pennsylvania College of Podiatric Medicine with honors and went on to the complete a 3-year Reconstructive Foot and Ankle Surgical residency at the University of Chicago Hospitals and Clinics. Dr. Rockett is married and lives in League City with his wife, Dr. Andrea Rockett and their two son's George and Evan.
Dr. Rockett is also very active in podiatric research and education. (Presently he is the research and education director of the Harris County Podiatric Surgical Residency and Foot and Ankle Fellowship Programs). He has published over 20 manuscripts in multiple peer-reviewed journals (since 1996 and is actively performing research and writing manuscripts) and has written chapters in medical textbooks book chapters to help further advance Podiatric Medicine and Surgery. He additionally lectures locally, nationally and internationally on numerous foot and ankle surgery topics. Dr. Rockett currently served as Poster Chairman for the American College of Foot and Ankle Surgeons for the 2000 and 2001 meetings.
To learn more about Dr. Rockett, view his curriculum vitae.
top of page